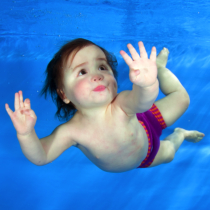 10 weeks: 30th January – 3rd April
"AquaPlay and MotherCraft" 
AquaPlay and MotherCraft sessions are held regularly at 10.15. (We have set this time so you guys from the inner/outer west and south Sydney can still make it easily. We are only 20 minutes from Newtown, Balmain, Kensington & Bondi Junction). If you have a large Mothers Group and you would like us to run one just for you on another day (or if your mums kick off a session we can add to) then drop us a line and we'll see what we can squeeze in.
So what's it all about? Well, it's a bit of a social really! Bring your bub along to the pool for a swim, (no lessons but a teacher will be on board to help out with questions or tips) then "Hang with Helen" our very own maternity nanny (though some say she's a baby whisperer…) to ask any questions on baby issues – sleeping, feeding, routines etc. It's a lovely informal way to air some issues or just listen to the banter from the other mums. Oh, and we've included some award winning coffee in the ticket price!  (Check out this review to give you an idea). So get the girls together or come on your own for some fun and amazing advice. You don't have to be a client to come so tell your friends! The venue is at the Artarmon pool with on site parking but we're letting all our clients know that at this time of the morning it's only 15 to 25 minutes from the inner west, eastern suburbs and city so don't let the location put you off. More dates will be released soon so if full, add yourself to the wait list and we'll look to get another session going asap so leave your details.
"AquaPlay Only" (practice sessions for Duck and Divers and newcomers)
For those existing clients who want to practice their skills or for newcomers who want to swim in a baby friendly pool, NO INSTRUCTION