This is the place to purchase a new Splashabout Happy Nappy, UV Combie, Wetsuit or Baby Snug. Our shop is for existing or previous Duck and Dive clients who have an account set up.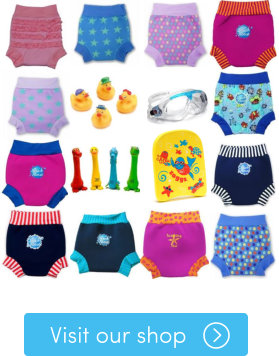 Remember that your baby needs a correctly sized, snugly fitting, and fit for purpose Splashabout Happy Nappy. Grab yourself a swanky new one if your bub has sprouted or their nappy is starting to look a little shabby and absolutely if the elastic is not going to do the job (i.e. to stop poo from entering the water).
You will also find a range of floats, toys and other swimming kit essentials as used in lessons so you can continue teaching your baby to swim safely at home or your local pool in between Duck and Dive baby swimming lessons.
We will try to deliver your chosen product/s to your next available lesson free of charge however this isn't always possible. If we can't then we'll post it just as soon as we can. Make sure you select postage option once logged in to the shop.
We are have the odd spot available for this term and are taking expressions of interest for 2015. Get in quick!