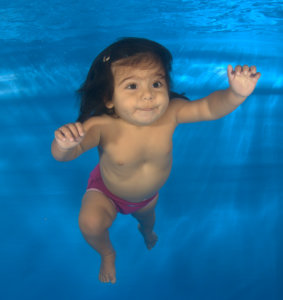 The beautiful pics you see throughout our site are all taken by us and we invite all clients (or sometimes guests) to our professionally run photoshoots held a few times a year. See how you can capture this once in a life time opportunity of your baby swimming underwater.
A photoshoot is usually scheduled towards the end of each term and we invite all our current ducks and ducklings. We time the event so that you can get to us from the inner west and Kogarah areas in around 20-30 mins typically.
THE NEXT SHOOT IS SATURDAY 21st April. GET IN TOUCH TO BOOK ON!
The ducklings in our beginners classes will all be happy with submersions by the time the first shoot is scheduled, these are often the best opportunities for some truly amazing results as baby is easier to submerge.
We generally aim for around 3 to 5 submersions in 30 mins depending on babies ability and how they are on the day,
After a "mini lesson" small groups of carers and budding starlets are submerged in front of the camera. To get the best results we use an underwater studio complete with special lighting equipment designed for underwater use. We use state of the art underwater cameras and housing. To give you an idea, our complete set up costs around $30,000.
Our photographer is one of the industry's most experienced underwater photographers and has been a finalist on several occasions in some of the world's most prestigious competitions. Her consummate passion for marine photography has sent her to the far flung corners of the globe but luckily for us her love of baby swimming and underwater baby photography ensures we have the best photographer for the job!
We welcome babies and toddlers who don't swim with us provided they are comfortable with submersions.
Siblings and family shots can be awesome but can sometimes take a bit more organisation. If we have prior notice of these requests then we can allow more time, but otherwise, whilst it may be possible to do on the day, it is strictly subject to time allowance.
When you come to view your photos you can choose from an exciting product range including canvasses, framed photos, acrylic blocks and float frames or you can opt for digital images to do as you wish.
We have chosen a team of professionals to look after the photo processing and framing to the highest standard.
We are have the odd spot available for this term and are taking expressions of interest for 2015. Get in quick!