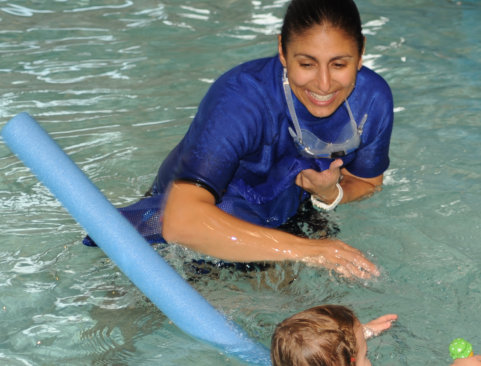 First introduced to baby swimming when she enrolled her son Sam in 2004 in the UK, Barbara quickly fell in love with the relaxed, friendly environment and progressive, structured lessons that she decided on a career change and trained as an instructor.
So Barbara embarked on her journey to become a swim teacher by attending the Amateur Swimming Association Level 1 Certificate of Teaching Swimming, followed by the Swimming Teachers' Association Level 2 Certificate in Teaching Swimming, then completed the National Rescue Award for Swimming Teachers and Coaches and lastly completing the Water Babies internal intensive training. After her training was completed, she then worked with the Water Babies franchise based in Leeds.
When Barbara and her husband Adam decided to move back to her hometown of Sydney she completed her AustSwim Teacher of Swimming and Water Safety and Teacher of Infant and Preschool Aquatics certificates as well as obtaining her CPR certificate. They were then able to launch Aqua Babies in Sydney in October 2007 as part of the UK franchise, Water Babies. Since then they've successfully been running the business in various pool locations throughout Sydney and can proudly boast having taught over a thousand babies to swim.
After 7 years running Aqua Babies Barbara is excited to announce the launch of Duck & Dive, Baby Swim School in January 2014. Duck & Dive is Barbara and Adam's brainchild and still offers the same dedicated, personal service. The new swimming program has been developed by Barbara and her swim instructors and benefits from their years of experience.
Teaching baby swimming is a fun and rewarding job and all Duck & Dive swim instructors are passionate about what they do.
Barbara maintains "no matter how many years you do this job for, you still get a buzz when one of your little clients nails an activity, smiles at you as they swim pass or swims the width of the pool on their own. There are so many amazing moments I've experienced over the years but I think the most magical one is seeing mummy or daddy and baby having that lovely bond where their smiles go from ear to ear when they are doing one of their favourite activities together!"
To see what our clients say, visit our testimonials page
Got questions? Visit the FAQs or contact us with any questions.
We are have the odd spot available for this term and are taking expressions of interest for 2015. Get in quick!