Baby Swimming Lessons School For Sydney & the North Shore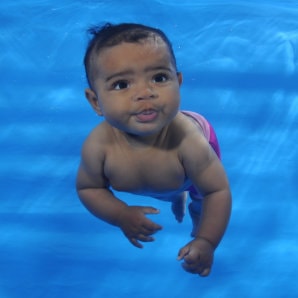 A fun baby swimming school in Sydney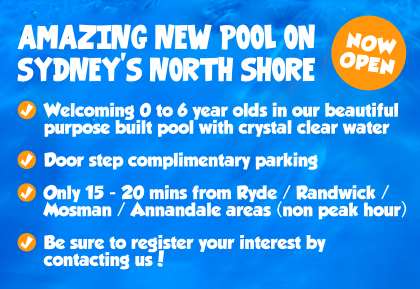 Welcome to Duck & Dive, a genuine boutique, family run swim school specialising in babies from aged zero to three years and Learn to Swim from 3 to 6 years. We offer baby swim lessons in Sydney (inner west, north shore and St George areas).
We are taking enrolments at the moment for term 1 starting February 2018  and places are filling fast! Go to the enrolments page to see how you can book on.
Take a look at why people love us!
NEWSFLASH ….To book or find out more about our next AquaPlay event click here. Practice your skills, have some splashy fun. Bring a friend or Mother's Group!

Don't forget to like our Facebook which is our main notification point. We've got lots of exciting activities lined up including Birthday Parties, AquaPlay (think swimming in a beautiful baby friendly environment vs your local pool which may not tick all the boxes), Pilates, Barre Attack, Yoga and heaps more! Our Learn to Swim is officially off to a flying start so we can transitions our own little ducks (and newcomers of course) into beautiful, confident swimmers.
Teaching your baby to swim not only gives them valuable life skills, but also builds their confidence in the water and is a lovely bonding experience for the two of you. Through our fun yet structured baby swimming lessons we teach parents to swim with babies from 0 to 3 years, in a warm, relaxed and calm environment.
At Duck and Dive we've developed a comprehensive lesson program designed to introduce parents and babies to the water and develop skills like back floating, kicking their legs, holding on to the pool side, paddling their arms, blowing bubbles and much more. Whilst the initial stages are a gentle introduction to swimming, babies will eventually go beyond water familiarisation and our baby swim lessons are geared towards gaining skills essential for water safety. This is done by integrating lots of different activities and making use of inventive techniques as well as of specially adapted songs, toys and aquatic equipment, all of which work together to create very varied and fun lessons…  Read more
Like Us On Facebook
What mums and dads think of
Duck and Dive
Maureen
(a mum with her 3rd Duck and Dive bub)
Giulia's daddy
(loves a morning swim with his daughter)
Ruth & Fatema
(pool side mums – dads are always having fun in the pool with the kids!)
Looking for an activity that's a bit different to do with the …
In our funky new studio, GoForFIt will be running Barre Attack sessions. Anya is an amazing instructor and together with her hand picked team …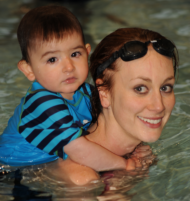 There are many swim lesson providers for babies and toddlers all over the city, offering different programs. Many other programs are based on water familiarity and building confidence through song and rhyme. At the Duck and Dive baby swim school we go beyond these basic stages, as we recognise the importance of survival skills and aim to nurture a lifelong love of the water…
Read more
We are have the odd spot available for this term and are taking expressions of interest for 2015. Get in quick!