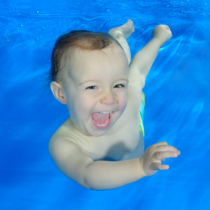 Awesome! You've almost got a toe in the water!
Have a quick look here if you have any questions – we've covered off most of them.
Beginners Classes (Ducklings 1)
You can book on to a beginners course only if your baby is less than 12 months old at the start of the term. Classes for term 4 starting early October are already full – Bummer! So to be wait-listed for a cancellation or to register interest for term 1 starting end of January, drop us a line here and we will automatically add you to our "enrolment alert"
IMPORTANT: Remember that all Duck and Dive babies need to wear a special Splashabout Happy Nappy (without exception). These may be purchased at the same time as you enrol and we will bring it to your first lesson. It would be a good idea to have baby's weight before booking so you can select the right size. Just click "Add product" during the booking process
All classes other than Beginners (Ducklings 2 to Ducks 9 and learn to swim 3 to 6 years)
We have some places available here and there so to check if there is space in a suitable class give us a buzz.
We need to talk to you if:
baby is between 12 months and 3 years and you want to join an existing class
baby is less than 12 months and has had formal lessons and you would like a higher level than beginners
baby has swum with Duck and Dive before
baby has special needs
baby is less than an estimated 5.5 kilos at the start of term
term has already started. It is sometimes possible to join mid-term, if we can't find a spot this term then we are always happy to add you to next term's wait list
In short, we choose not to have a fully automated system as we'd prefer to have a quick chat prior to booking which also gives you the opportunity to ask any other questions you may have and make sure you are enrolled in the most suitable level. It's really important to have baby in the right class for their ability and we can't always make changes once term has started.
At Duck and Dive Baby Swim School we want you to be completely assured that we're the right school for you and your baby. We want your baby swim classes to be amazing and this should be the start of a long and happy relationship!
Looking forward to swimming with you!
The Duck and Dive team
We are have the odd spot available for this term and are taking expressions of interest for 2015. Get in quick!